Today I want to share with you this recipe of flourless cake, a cake that, as its name suggests, doesn't have flour (so if you use everything without gluten it is suitable for celiacs). It's a super moist, rich chocolaty cake. 
This cake is not complicated at all, it doesn't take too many ingredients and it's for dessert or celebrations. I like to accompany my slice with a little cream and strawberries or ice cream, of course. 
Let's do it!
10 ounces of semi sweet chocolate
2/3 cup of butter 
6 medium eggs
1 cup of granulated sugar
1/3 of unswettened cocoa powder
Pinch of salt
2 tablespoons of cocoa powder
1 cup of cream 
2 tablespoons of powdered sugar
Fresh strawberries 
Preparation time: 25 minutes
Cooking time: 30 minutes
Yield: 12 portions
Preheat the oven to 350°F and line a round 8 inch pan with baking paper. 
To start with the cake, we need to melt the chocolate and butter toghether. We can do this in the microwave in periods of 30 seconds, mixing between each period. The other way you can do this, is by making a baign marie (place the bowl over simmering water). Let the mixture cool down a little bit. 
Next, separate the eggs and add the yolks to the cooled chocolate mixture. Then add the cocoa powder and salt. 
Using a hand mixer or a stand mixer with the whisk attachment, beat the egg whites with the granulated sugar until they form stiff peaks. 
Add a small part of the meringue to the chocolate mixture, fold them carefully until well incorporated. Add the rest of the meringue and repeat the last step. The result should be a batter that is similar to a chocolate mousse. 
Place the batter into the prepared pan and place it in the oven for 30 minutes. 
Allow to cool to before removing it from the pan. 
In a bowl, whisk the cream with the powdered sugar until it becomes chantilly cream. 
Treat yourself to a nice slice with cream and strawberries, you totally deserve it! Enjoy!
I invite you to read this recipes too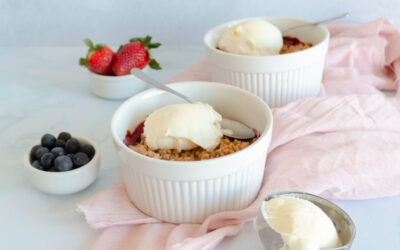 This mixed berry crisp is, for me, the perfect dessert. It has an amazing flavor and to top it off: vanilla ice cream!
read more