This berry cheescake recipe is a classic, it's so delicious that we can't stop eating it.
Today I want to share with you this classic cheescake recipe and on top a delicious berry marmalade but you can top it with any fresh fruit or jam that you like, It's up to you!
This super creamy cake will earn you heart, I'm sure.
Ingredients for the crust
14 oz graham crakers
1/2 cup softened butter
Ingredients for the filling
17 oz cream cheese
1 cup whipping cream
4 eggs
1/2 cup sugar
1 teaspoon vanilla esence
Ingredients for the marmalade
10 oz fresh berries (I used a mix of raspberries, strawberries or blueberries)
3/4 cup sugar
Preparation time: 20 minutes
Cooking time: 60 minutes.
Yield: 9 inch pan (about 12 portions)
Calories per portion: 408.
To start with this berry cheescake recipe we are going to preheat the oven to 350°F, also we need a 9 inch pan.
Let's make the marmalade, to do so, we are going to place a saucepan over medium heat and we are going to add the berries and the sugar, you can also add a few drops of lemon juice to highlight the taste of the berries. Cook the marmalade for about 10 minutes or until you get the consistency that you like. Keep in mind that marmalade tends to look a little bit liquid when it's still hot but when it cools down tends to get more firm.
When we are done, we will need to cool it down so place in a bowl over the counter until it's room temperature and then you can store it on the fridge until the cheescake is done.
The next step is to grind the cookies with a food processor. After the cookies are grinded, add the softened butter and mix well. Place this mixture over a 9 inch pan and with a spoon cover all the base of the pan. This will be our crust.
Let's start with the filling, to do so, in a big bowl place the cream cheese, the whipping cream and the vanilla. Mix well. Next, we are going to incorporate the eggs and last we add the sugar, make sure it's well combined.
Now, place the cheese mixture over our crust and carefully take it to the oven for 60 minutes. When the timer is done let the cheescake cool down inside the oven, when you take it out of the oven the top of the cheescke tends to crack so this little trick will give you smooth top.
When the cheescake has cooled down you can top it with you berry marmalade. After that take it to the fridge for about an hour.
Enjoy!
I invite you to read other recipes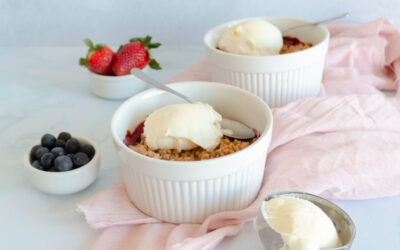 This mixed berry crisp is, for me, the perfect dessert. It has an amazing flavor and to top it off: vanilla ice cream!
read more