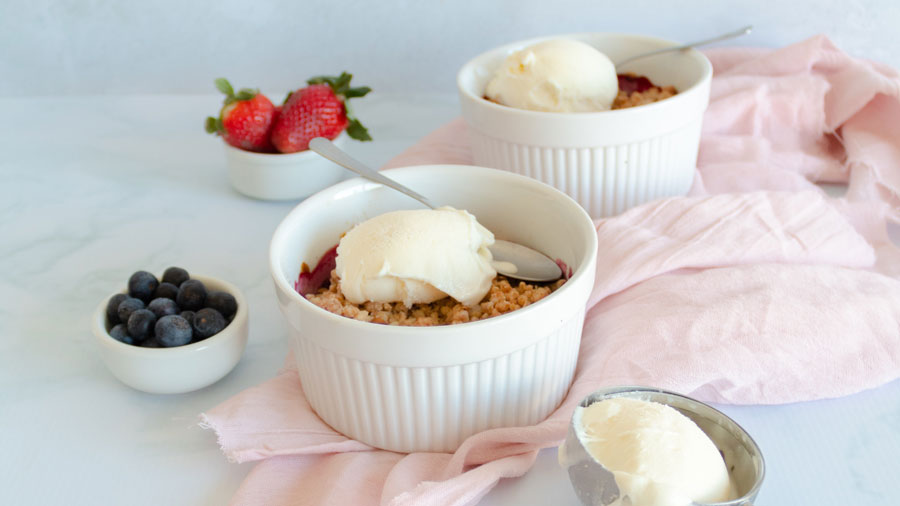 Today I share with you this recipe of mixed berry crisp, a delicious dessert that is very easy to make. I made it with mixed berries (blueberries, strawberries and raspberries) but you can easily substitute these for other fruits such as apples, peaches, plums, pears or whatever you like the most.
To give it an extra touch I put a little vanilla ice cream on top and to tell you the truth it's perfect, for me there is nothing that beats a warm dessert with ice cream. 
Ingredients for the crisp
1 cup traditional oatmeal 
1/2 cup granulated sugar 
1/2 cup butter  
3/4 cup of 

all-purpose flour

1 teaspoon of cinnamon 
Ingredients for the filling
1 cup strawberries
3/4 cup of blueberries 
1 cup raspberries
2 tablespoons of sugar 
Preparation time: 30 minutes
Cooking time: 40 minutes
Yield: 6 portions
To start this recipe, we are going to preheat the oven to 350° F and we are going to prepare the dish or ramekins we are going to use to cook our crisp on. I used ramekins but you can use any 8×8 baking dish. 
To prepare the crisp, we are going to put the ingredients in a big bowl and we are going to combine them with our hands until the mixture is crumbly.
In another bowl, mix the berries with the sugar. 
Place the berries in the baking dish or ramekins and cover them with the crisp on top. I wanna say something here, I didn't put butter on the ramekins, I never do, in my experience it doesn't stick to the dish but if you want to do so, you absolutley can.
We take the crisp to the oven for 40-45 minutes or until the crisp has this golden brown color. Let it cool slightly.
I like to serve it warm with some vanilla ice cream, for me it's the best way to eat it.
I hope you enjoy it and like it as much as I do.
I invite you to read these other recipes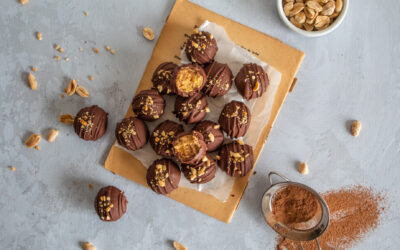 These peanut butter chocolate truffles are one of my favorite sweet snacks, they are super easy and fun to do.
read more