My love for cooking started at a very young age thanks to the fact that my family has a great passion for cooking. To this day, we share recipes all the time. I see it as a way to keep us together.
Because of that love I have, it was that I decided to go to culinary school. Today I dedicate myself to this beautiful art form and that is why I want to share with you the pleasure of cooking, because it is not only nice to eat something delicious but also to be able to enjoy the preparation process, choosing the ingredients and making the most of them.
I'm going to share easy recipes, recipes that you can make at home to share with those you love the most or simply to spend a nice moment with yourself. I invite you to cook with me, to reinvent old recipes, easy and not so easy family recipes.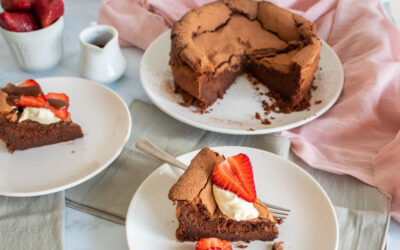 This flourless cake is absolutely delicious and gluten free. I accompanied my slice with cream and strawberries. You should try it!
read more